Wednesday was St. Wenceslas Day - aka Statehood Day - aka a national holiday in which everyone has off from work, except sad little TEFL trainees. Wahhh. I did, however, manage to squeeze in a bit of culture. Quite a lot of culture, actually - a trip to the opera at

Národní divadlo, the national theater (forgot my camera, of course, as I do for all important, documentable things) to see The Bartered Bride (

Prodaná Nevěsta).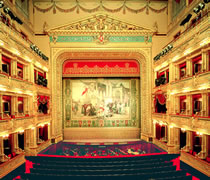 I was a bit apprehensive, because, to be completely honest, I thought it might be kind of... boring. It's opera. In Czech. Two things I know relatively nothing about. Still, I figured if I didn't go then, I probably never would so I handed over my 110ck (bargain!) and set off. Pre-show glass of wine with my fellow NJ TEFL-er & her roommate, and then we classed it up.
The National Theater is huge and opulent and stunning and everything that a theater is supposed to be, but rarely actually is. People were dressed up and sipping champagne and it was exactly how you think it should be. I got snapped at by a Czech man for shuffling through the row the wrong way (must face each other - oops. Lesson learned.), but that was just a minor snafu.
They have subtitles in English and German so you can follow along, though it's fairly easy to grasp anyway (and I have a feeling that much of the story gets lost in translation). The Bartered Bride is by Bedřich Smetana, and was one of the first Czech operas to gain international success (though it took a while). It's a romantic comedy about

Mařenka and Jeník, two crazy kids in love, despite Marenka not knowing much about Janik's past (he left home to escape his father and his evil stepmother).

Mařenka's father has agreed to have her marry

Vašek

Mícha

else in order to pay off his debts. The marriage broker working the deal tries to pay of Janik, who eventually agrees on the condition that Marenka can only marry the son of

Tobiáš Mícha. Eventually everyone finds this out and is shocked and appalled that Jenik would give her up so easily. There's a circus, some drunkenness, and the big scene at the end... I won't give away the story, but you can figure it out for yourself. :)
A few etiquette notes - in addition to very strict rules (unbeknownst to me) about which way to face when trying to hobble down your theater row without stepping on toes or elbowing people or accidentally flinging your bag over the balcony (as said row is approx 5 inches wide), remember to face towards the people who have so graciously gotten up into that awkward half stand, half stoop maneuver to let you pass. Apparently, older Czech gentlemen prefer your face to be in their chest rather than your rear, well... And clapping. Get ready for some clapping. As in clap until your hands are raw, your wrists are sprained, and you think you can't clap anymore. Then clap for ten minutes more. That should just about cover it. And dress up. It's the opera, for Christ's sake. This is no place for jeans.
I really did love it, and will hopefully get to go again (camera in tow). Feel good about doing something cultural other than sample the local beer, so bonus points for me. Now, what to do this weekend... [Update: Apetit Magazine (someone really needs to explain this to someone) Piknik:
www.apetitonline.cz/piknik.
Yum!]