A friend who's been shipped out to the wilds of Ostrava for work came to visit for New Year's, and we had a great time spending too much money drinking our way around Prague during his three day visit. We did, however, manage to squeeze in some culture. The weather was crap, so that ruled out outdoorsy things, but we headed up to Prague Castle to check out the Lobkowicz Palace Museum, home to the oldest and largest private collection of art in the Czech Republic. After having lost their lands and possessions twice (first by the Nazis, and then by the Communists), the family was able to reclaim their property in the 1990's, and they opened Lobkowicz Palace to the public.
The museum is spread through 22 rooms and the audio tour is led by members of the family and the curator. The tour was fascinating - not only was it packed full of interesting information, but hearing the story of how the family lost and regained their fortune, from the family itself, was very dramatic. As a young American, I think I often forget the personal impact that these major world events from history had - they were always just stories in a book, so far removed from me or the American culture that it's hard to put them into context. The Czech Republic is constantly reminding me otherwise.
New Year's Eve was spent traipsing around the city, in and out of various bars. We started at the Globe, but quickly left there and headed to U Fleku for some pivo, Becherovka, and sustenance. Plenty of Russians who were clearly many, many pivos ahead of us and really in the spirit kept reminding us of what holiday we were actually celebrating. NYE is absolutely nuts in Prague. Everyone has firecrackers that they light off in the street, and people are smashing bottles left and right - its like a war zone. Terrifying, though slightly thrilling. From there, we stumbled over to a club by Narodni Trida for more beers, a little champagne, and to ring in the new year. Danced, drank, and flirted with foreigners. By the time we fell out of there, we needed breakfast, so caught a tram and went to Tri Musketeer for potato pancakes and unabashed drooling over the most adorable Irish boy ever. Got home sometime as the sun was coming up (which is quite late here in Prague), and spent the rest of the day napping and getting work done.
Last week was my first really full week of work since November - with Mom's visit and the holidays, most stuff ended up being cancelled. Was quite a shock to the system! I was definitely relieved when Friday rolled around and I knew there was no alarm clock in sight for the next few days.
I went with a couple of girls to the MeetinPrague mixer at Jama on Friday, but we got there pretty late and ended up having to sit in a tiny little room, so mingling was not happening. We left there and went to Nebe for dancing instead - always a good time. Last night we went to a concert of classical music & showtunes, with a few carols thrown in (think "I'm Dreaming of a Vite Christmas", "Hyello Dolly", and "On My Own" - in Czech!) at St. Michael Monastery in Old Town. The singer's voice was absolutely amazing, and the acoustics in this place are fantastic.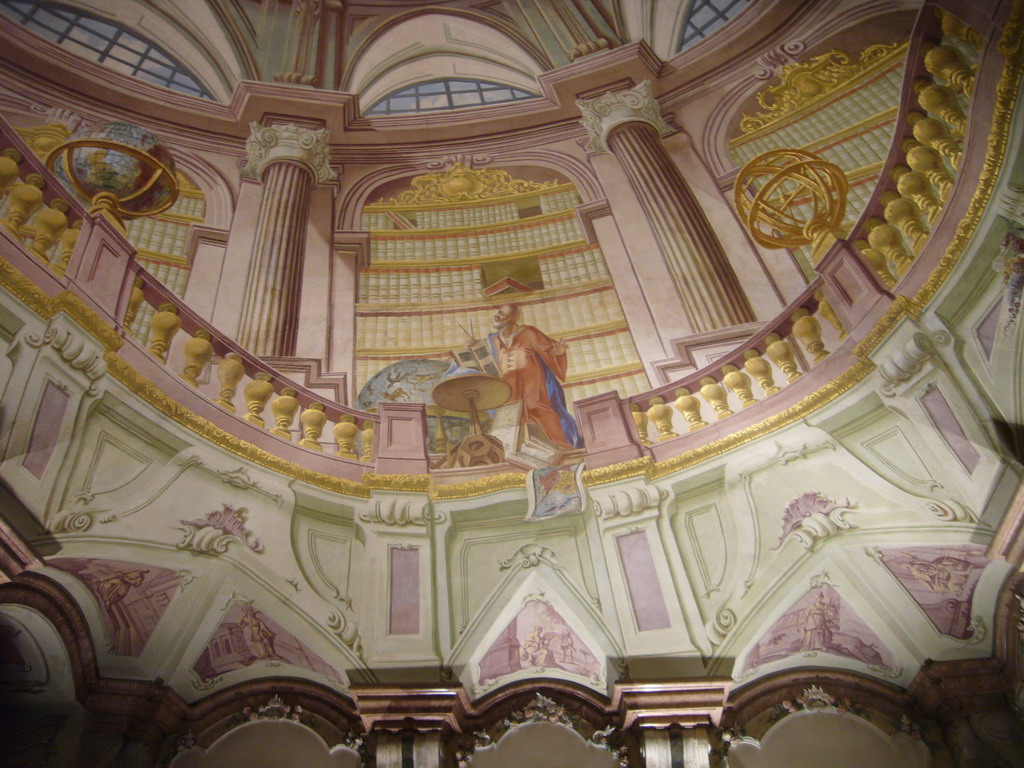 A couple sitting by us commented that the ceiling was just like the Sistine Chapel.
Now, I realize that the painting in St. Michael's is beautiful, and I have never been to the Sistine Chapel.
But I am fairly confident that, other than both having painted ceilings, they are in fact not that similar.
This was followed by a scrumptious dinner at Bakeshop (ahhhhhhhhhh). I could quite happily live in Bakeshop. It's adorable, the food is to die for, and since they sell clothes as part of their merchandise, I'd never have to leave. Works for me.
The most magical place on earth.
After a fabulous meal, the four of us set off to Belikova 13 for swanky cocktails. All very SATC, what with Andrea 1's Cosmo, and Kimi & Andrea 2's Moscow Mules, and my whiskey on the rocks (don't ask - I have been watching too much Mad Men lately and have overnight developed a passionate love of sipping whiskey. Though in my fantasies my hair is usually much better and I'm wearing satin gloves. Wind blown and frostbitten from navigating the streets of Prague in heels doesn't give off the same effect.) The bar was much, much fancier than we were - it's the type of place frequented by those gorgeous Czech women who sprint around in stiletto boots (how?!?!?), clutching LV bags despite the average annual wages of most people in this country not equalling a bag of that cost in two years.
From there, we went to Chapeau Rouge, a bar/club/music venue that's been kicking around since 1919. The main floor is a bar, full of respectable adults. The first floor underground is a club. On this particular occasion, it was full of a group on the Pub Crawl. I have no idea where these teenagers came from, but I have to say that I admire the gusto with which they danced. It's very rare that one gets to see drunken children reenacting River Dance to crappy techno while simultaneously head butting each other in some goat-esque show of bravado. They were very enthusiastic. We, however, ran back upstairs to join the adults.
Peej has just returned home from 3 weeks back in the states, and came bearing all types of goodies, so I am off to have an indulgent Sunday of reading Glamour (thanks Mom!). Ciao for now!